Flooring Album
Belmondo® Basic
A robust 18mm thick mat with the required level of softness. Long-lasting, retains its shape, and suitable for use in stables and any hard surface. This hygenic mat provides sure footing and reduces the quantity of bedding required. This mat has a non-slip surface effect and is easy to clean. Rubber's natural qualities also provide perfect insulation from radiative cooling. Made of vulcanised rubber, top surface hammer-blow design, underside has a ribbed profile, puzzle-cut on four sides. Dimensions 1000 x 1000 x 18mm, weight approx 20kg per mat.

Aus $79.00
Code 4027
Belmondo® Classic
This 18mm thick mat ticks all the boxes for a high-quality floor covering for stables and stalls. Providing animals with a sure footing, this hygienic, easy to clean, non-slip mat will save on bedding and can also even out slight irregularities in the underlying floor. Suitable for use in stables and any hard surface.

Made of vulcanised rubber, wear-free surface layer has a horseshoe texture, underside has a ribbed profile, puzzle-cut on four sides. Dimensions 1000 x 1000 x 18mm, weight approx 21kg per mat.

Aus $99.00
Code 4029
Belmondo® Trend
This 28mm thick mat provides comfort for horses when
lying down, perfectly accommodating their musculo-skeletal system. In comparison to the solid BELMONDO® Classic, the BELMONDO® Trend is designed to be softer and springier. The softer rubber compound also minimises the risk of slipping, preventing tendon damage. Designed exclusively for use in horse stables.

Made of vulcanised rubber, horseshoe texture on the top surface, wear-free protective layer, underside with raised knobs and rubber strips. Dimensions 1000 x 1000 x 28mm, weight approx. 22kg per mat.

Aus $109.00
Code 4032
Belmondo® Walkway
The stable aisle can present slip hazards and pose the problem of unnecessary noise. The 11mm BELMONDO® Walkway provides a solution to these problems – muffling the clatter of hooves and providing a non-slip surface. This easy to sweep mat is also suitable for washing and grooming areas, horse trailers and trucks. Please note that it is not suitable for heavy vehicles, or horseshoes with studs.
Made of vulcanised rubber, the top surface has a horseshoe texture, underside has a ribbed profile, puzzle-cut on four sides. Dimensions 1000 x 1000 x 11mm, weight approx. 13.5kg per mat.

Aus $89.00
Code 4026
Regupol® Rubber Tile
REGUPOL® flexible tiles allow water and urine to pass through them. The tiles should be laid loose on an even, freezeproof, crushed-stone substrate that is 25–40cm deep with an edging. A footing layer is not necessary. The tiles can be used in open stables and stalls where there is an open/porous crushed-stone substrate, as well as in wash stalls and stable aisles.
Available in reddish brown or black. Flexible tiles. Dimensions 1000 x 500 x 30mm, 27kg/m2.

Aus $119.00
Code 4038
Regupol® Interlocking Paver
REGUPOL® interlocking paving stones are permeable and extremely resilient. They can even be driven on by light agricultural machines. An extremely quiet surface that is easy to clean, with a long service life. The paving should be laid on an even, freeze-proof, crushed-stone base with an edging. It is suitable as a floor covering for stable aisles, wash stalls, wash areas (outdoors), paddocks, horse walkers and paths. Available in reddish brown or black. Interlocking paving. Dimensions 200 x 160 x 43mm.

Aus $99.00
Code 3033
Belmondo® Rodeo
The Rodeo rubber mat provides the stable walls with impact protection. Its shock-absorbing qualities prevent hip and leg injuries. It also reduces noise levels in your stables. The rubber mat can be easily cut to size and its texture is reminiscent of wooden planks. The underside of the Rodeo mat has a ribbed pattern. The rubber mat can either be screwed into place or the entire mat can be glued down.
Thickness approx. 11mm. Dimensions 1300 x 3500mm, weight approx. 14kg per m2.

Aus $189.00
Code 4014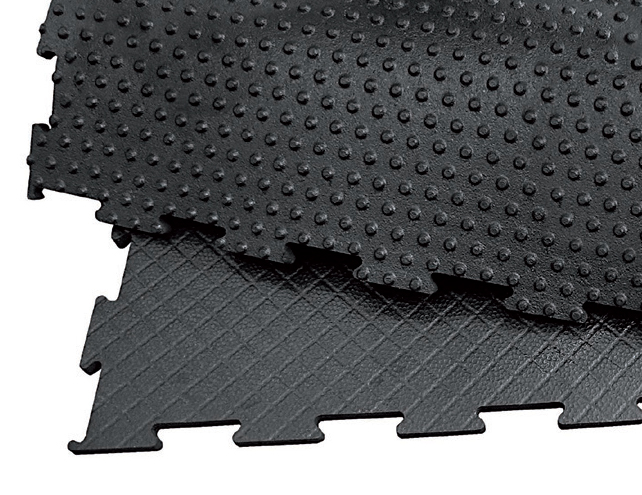 Belmondo® Paddock
BELMONDO® Paddock mat, made of vulcanised virgin rubber. The top surface features a diamond pattern, the underside has raised knobs with a thickness of 5mm. The appropriate level of softness supports the hoof mechanism and protects the tendons and joints. It is easy to clean, weather-resistant and freeze-proof, as well as being very durable and easy to install.

Dimensions 1000 x 1000 x 24mm, weight 23kg, puzzle-cut on four sides.

Aus $99.00
Code 4033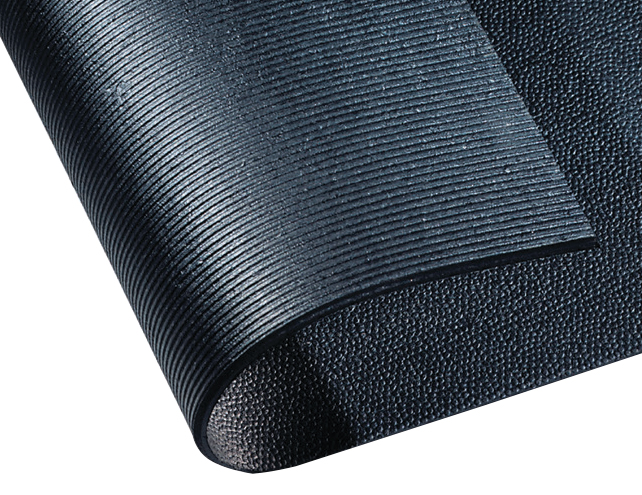 R10 Roll of Matting
The R10 roll of matting with fabric insert has a thickness of 10mm and a weight of 10kg/m2. The top surface has a non-slip texture and the underside has a 1.5mm ribbed profile. Can also be used as kick protection for the stable wall or as a rubber cover for your horse transporter.
1650mm wide, per m2
Aus $139.00
Code 4043
2000mm wide, per m2
Aus $139.00
Code 4045
K20 EN Rubber Mat
The Growi® K20 EN rubber mat is made of reliable, robust solid rubber. It has a thickness of 20mm and a weight of 18kg/m2. Simply economical – easy to lay, to fasten and to clean. Animal-friendly hammer-blow texture on the top surface, raised knobs on the underside. A durable and simple alternative.
1000 x 1300mm
Aus $119.00
Code 4006
1000 x 1500mm
Aus $139.00
Code 4008

1000 x 2000mm
Aus $189.00
Code 4012

1000 x 3500mm
Aus $329.00
Code 4013
Rubber Ring Mat
Made of vulcanised virgin rubber, this mat is suitable for a variety of uses in wet environments. Permeable to water if
the area beneath it has drainage. Soft, non-slip and absorbs sound. Can be used as impact protection in the stable or in the washing area. Not suitable for laying in the horse stable. Dimensions 1500 x 1000 x 23mm, ring diameter 20mm
Rubber ring mat
Aus $69.00
Code 4035

Connector, per piece
Aus $4.00
Code 4036